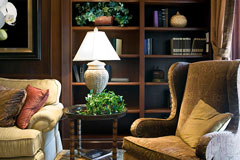 Home and office furniture are produced in many designs and materials; and furniture selection is a key interior design element, affecting a room's function, style, and decor. Years ago, furniture was traditionally made from solid wood or metal. However, in recent decades, furniture has been increasingly fashioned from plywood and pressed woods, as well as plastics. Veneers and laminates are being used more frequently as forests are depleted and the demand for wood increases. But these materials and their associated furniture construction methods often result in less durable furniture that is susceptible to chipping and cracking. This type of furniture can be difficult to repair.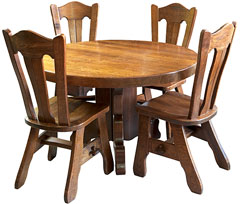 Furniture choices for a home will usually be determined by cost factors and individual tastes. Some people insist on solid wood furniture, such as Amish furniture, which is produced in the traditional way. Others may prefer couches or chairs upholstered in their choice of fabric. Still others may opt for lower cost unfinished furniture items which they can finish themselves. Unfinished beds, chests, and storage units are frequently painted with bright colors and used as children's furniture. Kitchen furniture such as benches and chairs, may combine solid wood and upholstery surfaces, while wicker furniture often suits a sunroom space. Home offices call for functional desks, chairs, and bookcases. If you use your home office infrequently, a small folding table might suffice as a work surface.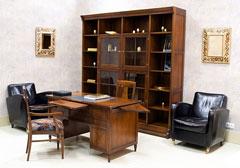 Commercial furniture requires a whole different set of standards. Classroom furniture must be durable, and able to withstand constant wear and tear. Library furniture must glide quietly, and accommodate a variety of book and media storage requirements. Most offices require sturdy computer desks and ergonomic office chairs, so that employees can work efficiently. Special types of furnishings are required for places such as laboratories and churches.
Alphabetized lists of, and links to, furniture manufacturers throughout the United States are available on this manufacturer directory. A directory of home furnishings stores in the USA, organized by State, is available as well.
The construction and usage of several types of furniture are illustrated on this furniture video portfolio page.